Careers
Air Traffic Control Officer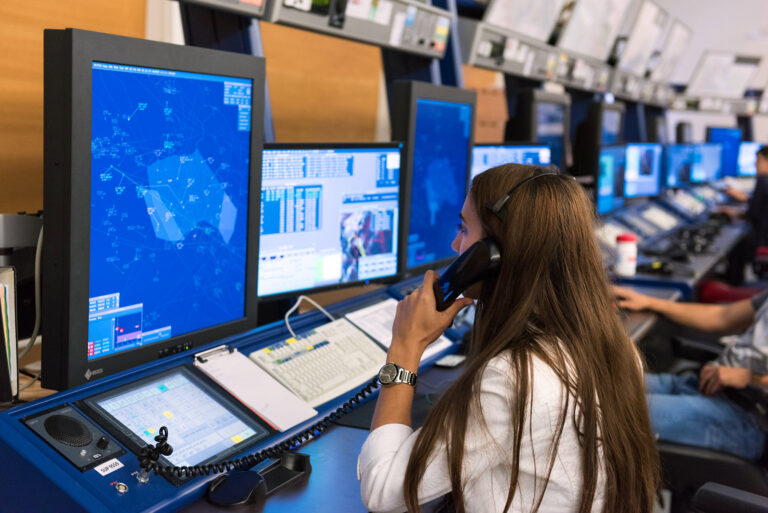 With their job being highly responsible, Air Traffic Control Officers (ATCO) must be able to process a large amount of information, react quickly and, no matter what is happening around them, be focused on their work.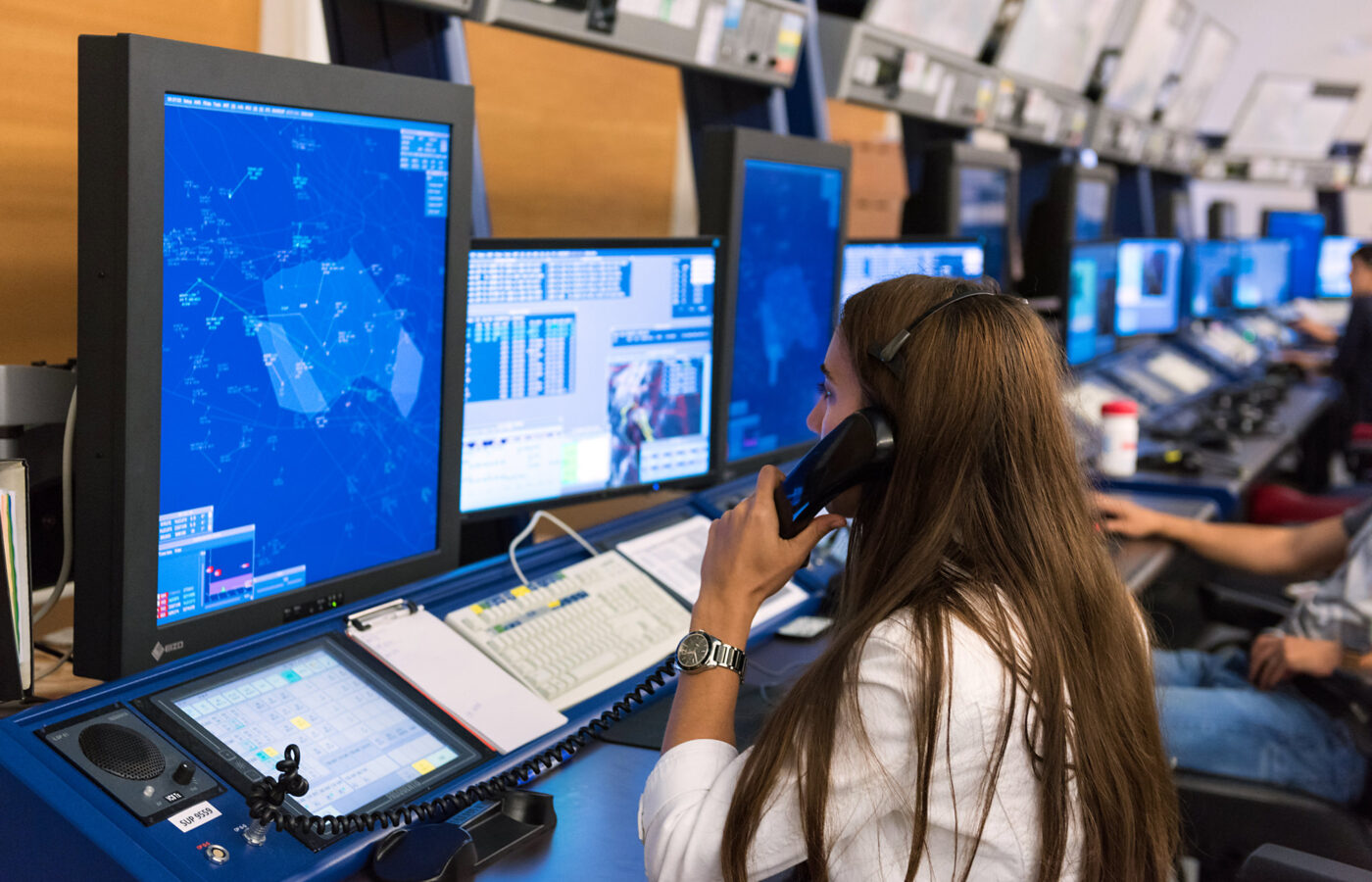 Air Traffic Control is one of the most demanding professions known today. Since ATCOs perform a large number of tasks simultaneously, their job is considered to be one of the most difficult today, which is why it requires possessing special skills, knowledge and abilities.
Some of them are: the ability to communicate quickly and clearly, quick attention switching, receiving and reacting to a lot of information coming from different sources, finding quick solutions in emergencies, a high degree of self-discipline, emotional stability, calmness and stress tolerance, which are necessary because the job is extremely responsible.
If you want to know more about the requirements for this dynamic, demanding and responsible profession, visit Minimum Requirements.
Tower ATCOs give take-off clearances and inform the pilots of current meteorological conditions like the visibility, wind speed and direction. When the aircraft reaches a certain altitude, the approach control takes over the aircraft from the tower control.
Approach ATCOs keep the aircraft under surveillance during the climb phase to make sure that it follows the given route. They have to react in case of any unexpected deviation from the route. During the descent phase, Approach ATCOs take over the aircraft and guide it towards the airport, ensuring the most efficient landing sequence.
Area ATCOs take over the aircraft in the air, when it leaves the approach control's area of responsibility. They use surveillance equipment to keep the aircraft separated, having the flight efficiency in mind at all times. When the aircraft starts to descend towards the destination airport, Area ATCOs hand over the aircraft to Approach ATCOs.
Working Conditions, Training and Career Development
Responsibility is the cornerstone of this profession, since the safety of aircraft, flight crews and passengers is its main focus. It is also very exhausting and can lead to stress because in a very short period of time ATCOs receive a lot of information to which they have to react promptly and accurately.
All ATCOs function as a team. To avoid the consequences of fatigue and lack of concentration, normally there are two ATCOs working at one position (executive controller and planning controller), rotating every hour or every two hours, depending on the intensity and complexity of air traffic.
If a candidate has a degree from the Faculty of Transport and Traffic Sciences, their university education is considered to be equal to the Basic Training. Other candidates are sent to the Basic Training in duration of 14 weeks. Upon the completion of the Basic Training, the candidates attend the Rating Training, which lasts 12 to 20 weeks, depending on the type of rating. On completion, the candidates are granted a student ATCO license with a rating, depending on the type of service they will be certified to provide (aerodrome, approach or area control).
The Unit Training consists of several stages:
Transitional Training, which is held in the classroom (60-126 hours)
Pre‐On‐the‐Job Training, which takes place in the simulator, only for area and approach control (10-11 weeks)
On‐the‐Job Training (100-420 hours).
The Unit Training duration depends on the working position for which the candidate is being trained, circa 2-3 years.
During the whole training process, the candidates are continuously assessed by means of written and oral examinations and practical assessments.
Our ATCO Training Organization is certified in accordance with the Commission Regulation (EU) 2015/340, with the privilege of providing training and the related courses:
Initial Training – Basic Training and Rating Training
Unit Training – Unit Training Course
Continuation Training (Refresher Training and Conversion Training)
Practical Instructor Training
Assessor Training.
We use a large number of equipped multipurpose rooms, computer rooms and meeting rooms at all locations (Velika Gorica, Osijek, Rijeka, Pula, Lošinj, Zadar, Split, Dubrovnik), as well as our state-of-the-art simulator for training the future ATCOs. It can simulate a large number of real-life traffic situations to validate airspace changes and procedures, carry out real-time and fast-time simulations and provide emergency training.
The simulator has more than 10 interconnected ATCO and pseudo-pilot working positions, a TTF platform and software for practical skills training. Besides that, training can also be provided online, with all required materials available on our software platform.
Along with its own candidates and employees, the Training Organization can also train the external contracting authorities' candidates.
The ATCO TO team consists of young, promising and ambitious experts, air traffic controllers, instructors, assessors, BA and MA professionals. The Organization tailors its services to the user and specific circumstances, it modernizes and adjusts its operation to the ATCO TO requirements laid down in the Commission Regulation.
Minimum requirements to be fulfilled by an ATCO candidate are as follows:
a university undergraduate degree in the field of air traffic or university undergraduate technical degree or high/grammar school or vocational-technical high school degree
citizenship of the Republic of Croatia or of an EU member state
active knowledge of the English language
Class 3 medical fitness pursuant to the Commission Regulation (EU) 2015/340 of 20 February 2015 laying down technical requirements and administrative procedures relating to air traffic controllers' licenses and certificates pursuant to Regulation (EC) No 216/2008 of the European Parliament and of the Council, amending Commission Implementing Regulation (EU) No 923/2012 and repealing Commission Regulation (EU) No 805/2011.
Here is a detailed list of the predispositions, capabilities and skills an ATCO candidate must possess:
the ability to communicate quickly and clearly
capability of redirecting their focus of attention quickly, receiving and reacting to information coming from different sources, dividing the attention among multiple tasks
the candidates should be resolute persons capable of making fast and accurate decisions and finding solutions in extreme situations, and able to concentrate in conditions that may divert their attention
capability of memorizing a large amount of data (especially numerical data), the capability of orientation in space (perception of space in 3 dimensions) and time, as well as numerical reasoning
self-discipline, emotional stability and calmness, as well as tolerance to stress in high-pressure situations, emergency situations, etc. are the traits required for the candidates; it is also important that they demonstrate the ability to prioritize and act accordingly
the candidates must be team players, socially mature persons, responsible in doing their job, open and approachable, with good communication skills
the candidates must have extraordinary vision and hearing, since they have to constantly monitor the changes in air traffic, and because communication goes via radio devices with the frequent presence of noise.
Recruitment and Selection of Candidates
The assessment and analysis of competences is carried out by the selection board, consisting of multiple members, and the whole process includes these steps: the preselection, a psychological test, an interview, an English language proficiency test, a medical examination and the final interview with the selection board.